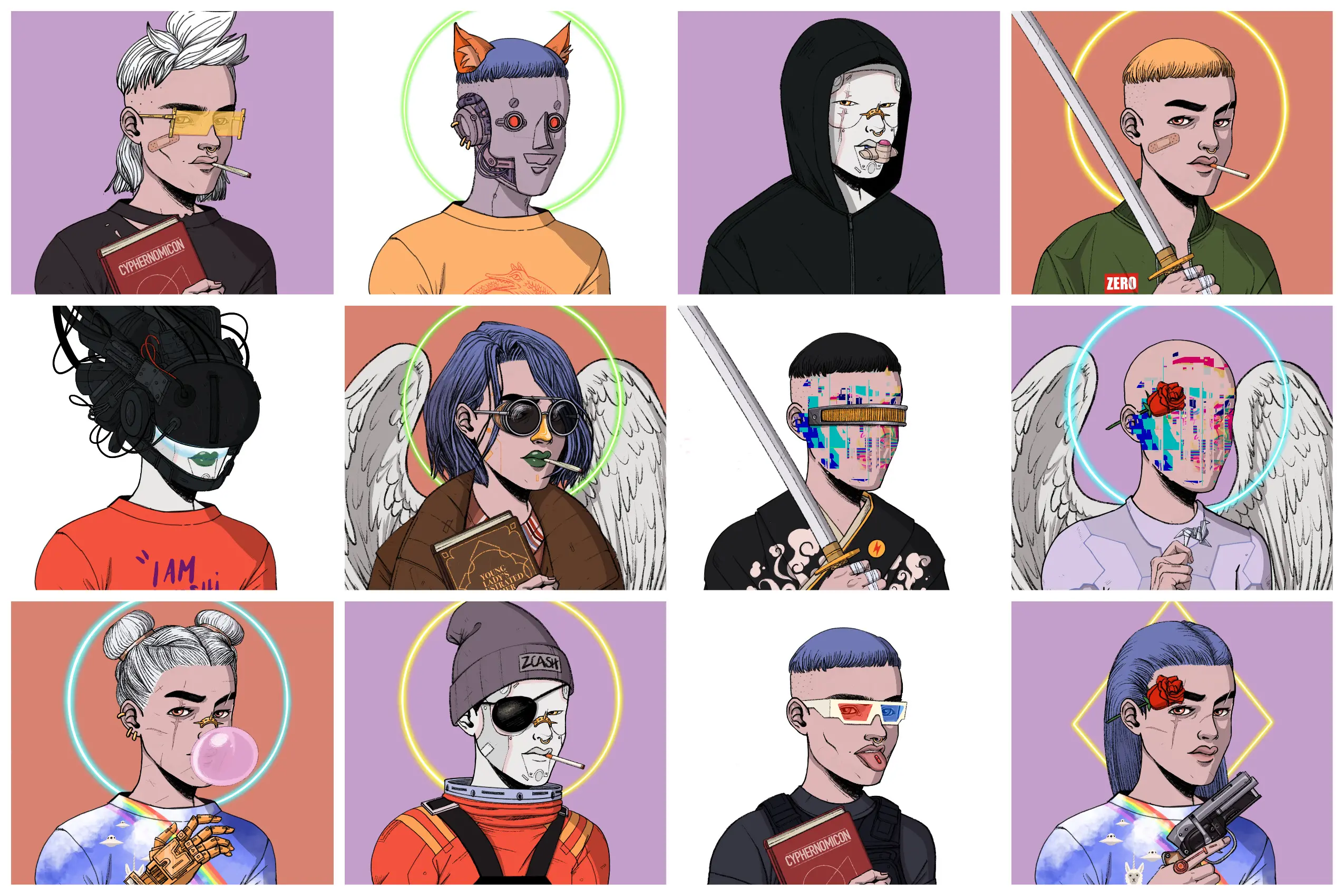 THE PUBLIC MINT PERIOD HAS CONCLUDED
⚠ You can view the official collection on Opensea or LooksRare
⚠ You can view the Rarity Matrix on Google Data Studio
Inspired by Zcash and Halo cryptography, the Cypherpunk Zero Creative Universe is a collaborative effort between ECC, illustrator Stranger Wolf and select ecosystem partners. Consisting of a forthcoming series of webcomics, NFTs and physical collectibles, the project explores the relationship between privacy, self-sovereignty and creative freedom.
Our story is centered on Zero, a young cypherpunk hacker and freedom fighter, as she navigates the intersection of the real and virtual worlds, attempting to create a brighter future with a new set of revolutionary technological discoveries.
You can further explore the project, including the immersive comic prologue here (best viewed from a desktop device).
This is a grand experiment in Web3 community building. We have several overarching objectives for the NFTs as follows:
Provide ECC (and the wider Zcash ecosystem) with opportunities for creative storytelling.
Align incentives of the NFT holders such that they each become a steward for ECC/Zcash brand values.
Introduce members of an adjacent crypto community (in this case the Ethereum NFT community) to Zcash technology + privacy themes.
About the artist & artwork
We partnered with the insanely talented illustrator Stranger Wolf  to create a collection of 10,000 unique, generative Ethereum PFP (profile picture) NFTs. The collection consists of six hand-drawn character types and over 100 different attributes of varying rarity.
Total supply: 10,000 unique generative NFTs on Ethereum Mainnet
4% of supply (the first 400 NFTs) was airdropped to the project's early supporters who purchased the Zcash X Mighty Jaxx: Cypherpunk Zero Genesis Edition Toy.
72% of supply (7,200 NFTs) will be released to the public using a novel whitelisting mechanism that requires using a Zcash wallet supporting encrypted memos.
24% of supply (2,400 NFTs) will be held by ECC in the Cypherpunk Reserve, for use in future initiatives that advance Zcash and privacy within the Web3 space.
Note: Any NFTs not claimed during the public release will be absorbed by the Cypherpunk Reserve.
For a more detailed review of the Cypherpunk Zero NFT release, see this post on the Zcash Forum.
Artwork license & terms of use
With certain limitations and subject to continued compliance with the full terms of use, ECC grants NFT holders an unlimited, worldwide license to use, copy, and display their purchased artwork for the purpose of creating derivative works based upon the art contained within the NFTs you own.
The Cypherpunk Zero NFT terms were designed to align with the Zcash ethos and highlight our commitment to a fair, open Web3 ecosystem. We took a similar approach when making the forthcoming Halo proving system available under MIT and Apache 2.0 licenses.
For a more detailed review of the Cypherpunk Zero NFT release, see this post on the Zcash Forum.
We've seen too many projects over-promise and under-deliver on their NFT roadmaps. As such, there is no formal roadmap.
Trust that we've got some amazing, exclusive perks in the pipeline for NFT holders—some expected, some unexpected. Buckle up and join us for the ride 

Use Zcash: Digital Currency of Web3
Zcash (ZEC) is the leading privacy-preserving, decentralized blockchain and cryptocurrency, created to empower individuals with unparalleled security and economic freedom. Get started with a wallet or exchange below.
*Indicates support for Shielded by Default and/or Unified Addresses at NU5 activation (Q2 2022)
There are myriad projects and organizations dedicated to technological innovation, economic freedom and a better tomorrow. To learn more and to get involved, click on any of the tiles at right!
Receive Cypherpunk Zero and Zcash updates from Electric Coin Co., the team behind the Halo Arc Product Suite and the first implementation of the Halo Proving System.